INDIA! Get Ready to Padel!
Ever felt bored of all the games you have played? Ever thought of inventing games and playing it with your friends and family?
Surely, we have all done that right?!
What is Padel?
That's what Enrique Corcuera, a Mexican industrialist, did in 1969. His search for a slightly less exhausting and fun sport ended when he combined the elements of both tennis and squash to form a new sport called PADEL.
He started off by making a 3-meter high wall opposite a  wall of his house and also guarded the sides with two low walls, with the initial idea being just to avoid the ball from bouncing into neighboring houses. Approximately 10 meters wide and 20 meters long, the first padel court was made!
Though we owe Enrique for giving us Padel,  it was actually presented to the world by one of Enrique's friends, Alfonso de Hohenlohe, the Spanish businessman responsible for the promotion of the beautiful city of Marbella and the Marbella Club Hotel in Spain. On his visit to Mexico in 1974, he was so impressed with this new game that he took it all the way to Spain and set up 2 Padel courts in the Marbella Club. This was the beginning of the sport that would go on to be known as "tennis within walls" or "squash under the sun". 
Is Padel a popular sport?
Padel spread like wildfire in Spain and many courts started coming up in every other street. Today it has almost paralleled the futsal court scenario in Spain! It is the 2nd most played sport in Spain after Football with over 10 million players and over 2500 courts across the country!
On the 25th July 1991, the Federación Internacional de Padel (FIP) was established in Madrid, Spain and Julio Artiach Joy was appointed as the president and was successful in creating a circuit of international tournaments and championships. Today there are about 38 countries that are affiliates of the FIP.
The World Padel Tour (WPT) was founded in 2013. Each year there are between 15-20 WPT tournaments plus a Final Master in which the best pairs of the ranking compete.
During the last couple of years, Padel has spread rapidly across the globe. In 2016 Padel racket sales in Spain had overtaken tennis racket sales.
The WPT 2016 saw Argentina win the Men's title, while the Senoritas of Spain won the Women's title comprehensively.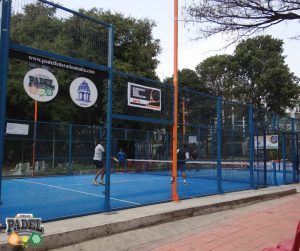 Padel has become immensely popular across most of the European and Latin American countries and is now establishing a strong footing in the Asian Sports scene.
Racquet Sports in India
Badminton, Tennis, and Squash have been in the Indian sports scene for a long time now. But have we as a nation seen a whole bunch of Sporting heroes rise from these sports?
To be honest, no.
In the recent past, we have had some of our super girls like PV Sindhu, Saina Nehwal, Sania Mirza, and Dipika Pallikal achieve the impossible and make it big in their respective games. And if they could do it, why not other boys and girls?
There are quite a number of reasons for this –
Lack of exposure
Lack of sponsors
High technical prowess required
Not enough training centers
However, we know that there is great potential for all these sports in our country.
Now what if a sport which was much more easier to learn and catch up on was taught to the people of our country? What if you could grasp a game similar to tennis within say, 20 minutes ? What if you could play this game with family and friends? And what if we told you it requires much lesser physical effort than tennis?
Sounds interesting, right?
Padel offers us just that! A sport that involves 4 players and smaller courts, let's see why Padel could be a huge hit in India –
Lesser physical effort and technicalities when compared to Tennis and squash
It can be played by people of any age group and hence cuts across the generation gap and for us Indians who value family time, this could be the perfect outing on a weekend.
The Racquets are not stringed and are made up of carbon fiber and other composite materials and hence are almost like one-time investments
Padel courts charge very less per hour ( approx. 400 – 500 Rs an hour )
India currently has the highest population of youth ( aged between 18-30 ) in the world and hence the need to remain physically and mentally fit is very important.
Indian Padel Federation (IPF )-
Padel was introduced in India by Ronnie Sehgal, General Secretary of Indian Padel Federation (IPF). IPF is a not-for-profit body that governs the sport of Padel in India.
IPF also facilitated a Portuguese based company to run Padel operations at Play Arena, Bangalore.
The IPF also set up two certified courts –
Sadashiv Nagar in Bangalore, in a BBMP park
L&T Eden Park, Chennai.
On March 30, 2019, Indian Padel team participated in the 3rd Asian Padel Cup in Chiba, Japan. This marks the beginning of something great that is to come.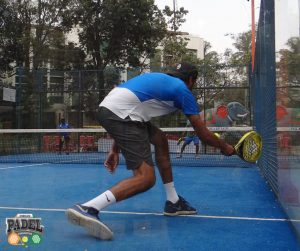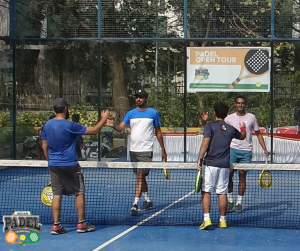 Advantages of setting up a Padel court in India –
High Profitability and ROI – A typical Padel court is much smaller than a tennis court. ( size of 1 Tennis court= size of 2 to 3 Padel Courts ). While only a maximum of 4 players could play on a tennis court at any given point of time, in the same area, with 2 to 3 padel courts, at least 8 players could play at any given point of time. This also would mean that the Padel player pays lesser per hour to play while the Club still earns its fair share of the profit with a higher number of players playing per hour.
Not much space required – The dimensions of the court are 10 * 20 meters and requires a 65.6 by 32.8 ft plot.
Easy Installation – The time taken to the lay the foundation slab depends upon the soil conditions. Once the foundation has been laid,  the artificial turf is installed.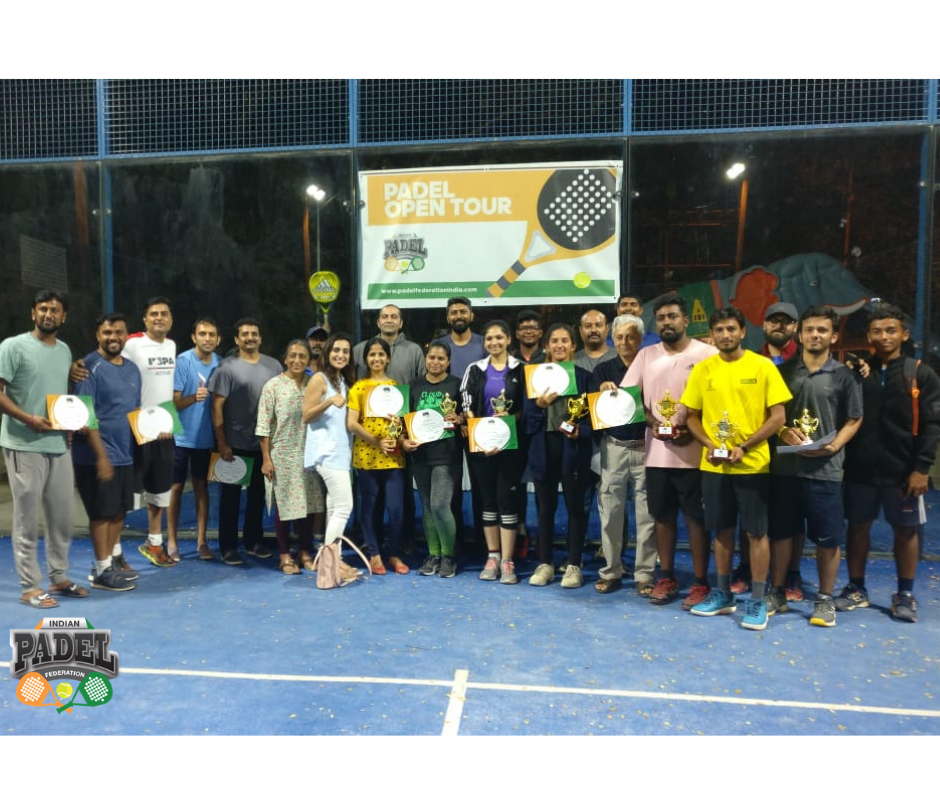 Extremely fun, social and accessible for all, padel is a breath of fresh air that is revitalizing clubs with an activity complimentary to tennis and golf.