Renowned Tennis Coach Shekhar Menon Joins Indian Padel Federation Board of Members
India's top tennis coach, Shekhar Menon joins the Indian Padel Federation Board, to promote and develop the sport in the country. A graduate in English Literature from Delhi's St. Stephens College (Batch of '78) Mr. Shekhar has been associated with tennis for more than 30 years, first as a player, before turning coach. In 1993, he started the Shanti Tennis Club in Vasant Kunj, South Delhi with around 4,000 students under his watchful eye, before it was demolished in 2009. At one point of time, this iconic club was neck and neck with the DLTA (Delhi Lawn Tennis Association), mainly in terms of producing quality players. 
His main focus resides in the development of younger players and providing them with grounding for future elite progression. He is a highly reputable coach, helping to develop professional level tennis players. In his extensive career, he has coached more than 5,000 kids, 200-250 top AITA (All India Tennis Association)  players including Davis Cup and Fed Cup players like Yuki Bhambri, Ankita Bhambri, Sanaa Bhambri, Vivek Shokeen, Rohit Raju among many others. Mr. Shekhar came out of retirement and is now the Director of Coaching at the Faridabad Tennis Academy (a state-of-the-art facility) and is responsible for training around 200 young budding tennis players. 
Current roles:
Director of Coaching at Faridabad Tennis Academy
Board Member of the Indian Padel Federation (IPF)
Professional Tennis Registry PTR (USA) – Certification to teach in over 140 countries     
International Tennis Federation – Certified Level I coach, authorised to teach in over 150 countries. 
Representative and Brand Ambassador, Yonex Corporation of Japan
Member of the International Lawn Tennis Club of India (by Invitation only)
National Ranking Player
-Vice Captain, St. Stephen's College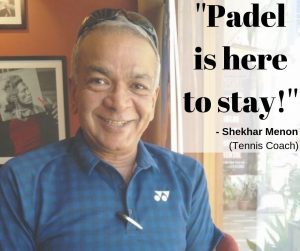 According to Mr. Shekhar, ''Padel is an amazing sport. I have been hearing about it's popularity for a few years now, and I am glad that Ronnie, who is an ex student of mine, took the initiative of promoting the sport in India. World renowned tennis players like Rafael Nadal, Roger Federer, Novak Djokovic, Andy Murray and others play Padel to keep fit and are associated with the promotion of the sport. Being a doubles sport with shorter rackets and smaller courts, it is an extremely fun sport to play along with enjoying a great workout! It is also a great sport that can be practised by seniors since the artificial turf with sand infill doesn't strain the knees. Athletes who have prior racket sport experience can pick up the basics of the sport in no time! Also, since more and more people across India are getting into fitness and adopting a healthy lifestyle, Padel is the perfect sport to practice as it is easy to play and you don't need extensive coaching, like in tennis. I believe that Padel is the perfect complimentary sport to Tennis.
On asked about his plans for developing Padel in India, he adds ''Padel needs to get the publicity that it deserves. More players need to play the sport. And that means more courts need to come up across the country. We will be getting investors to set up Padel courts across major Indian cities. The Indian Padel Federation has successfully organised 2 national ranking tournaments so far and it is great that there is a ranking system in place that allows players to qualify and represent India at the global stage. Since the sport is relatively new in the country, this is a great opportunity for clubs, players and coaches. I believe that Padel is here to stay! 
The IPF will soon set up Padel courts across all the major metropolitan cities in India along with  setting up the respective State Associations. Simultaneously, the Federation also plans to launch Padel coach certification programs to meet the increasing demand for coaches in the country. Padel has seen tremendous support from tennis and racket sport communities across the globe and the IPF is confident of gaining the same reception in India! 
7 Replies to "Renowned Tennis Coach Shekhar Menon Joins Indian Padel Federation Board of Members"
Vijay yashpaul

September 9, 2019 (10:46 pm)

The best coach I have come across ever that has given his sweat and blood to the development of tennis in India. A coach a mentor par excellence.

Arun khanna

September 10, 2019 (5:20 am)

Good news, with your wealth of experience in Tennis you are the right person to make this game very popular in India. Good.luck.

Arun khanna

September 10, 2019 (5:20 am)

Good news, with your wealth of experience in Tennis you are the right person to make this game very popular in India. Good.luck.

Divye chopra

September 11, 2019 (11:31 pm)

He is the best coach of tennis in India and right person to develop this game.he is very knowledgeable and experienced person.I have rarely seen a person like these in my life.

Binny Wadehra

September 28, 2019 (8:45 pm)

This is a wonderful opportunity to develop champions in this fascinating new sport with the able guidance of experienced and superb master coach Mr Shekhar Menon. His lifelong dedication and love for tennis has earned him the reputation of being the best tennis coach in India and for Padel enthusiasts his experience is a boon.. I wish the Padel Federation of India all the best for nurturing this sport.

November 21, 2019 (8:00 pm)

I am sure this article has touched all the internet viewers, its
really really pleasant post on building up new website https://www.massotherapiemyriamvigneault.com

Naveen kumar Govindraj

February 13, 2022 (11:54 am)

Myself Naveen from Bangalore.

Dear sir / madam,

May I know is there any place do course on padel tennis instructor in India.?
If yes,
May I know the duration & price please.
Thanks
Naveen
M- ±9607387632. ( What's app)
---